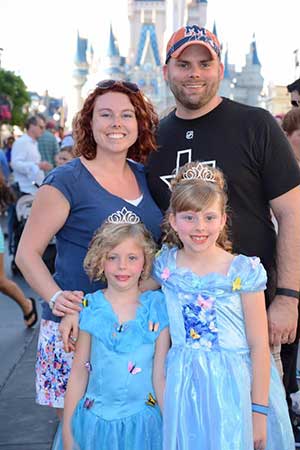 I contacted Julie Bradley several months ago to help us plan a Disney World trip with our family of 4 (2 adults and 2 girls ages 9 and 6) and my husband's sister and family (2 adults and 2 young adults ages 17 and 15). I contacted her via e-mail, and we swapped a couple e-mails back and forth. What impressed me right off the bat with Julie was that she could sense how overwhelmed I was feeling making these plans from the beginning that she picked up the phone and called me. That was exactly what I needed to relax and let her lead the way.
Julie made the planning so simple, straightforward and fun! The advice she gave for even the smallest details such as what things to pack in our backpacks while at the parks, to the best places to dine and how to handle the reservations was priceless. Even while we were at the parks and a couple questions came up Julie was almost immediate in responding to my text messages. I cannot tell you how many times my husband and I looked at each other while on our trip and simultaneously said "Thank you Julie!". She made the entire planning seamless. Even with kids at such different ages not to mention stages of life, she was able to help us each plan truly the perfect trip for our families while integrating our trips as much as possible so that we were all able to enjoy the magic of Disney together.
I would (and already have) highly recommend contacting Julie for any and all Disney planning needs. Thank you Julie for everything you have done for us! Can't wait to contact you to plan the next trip!