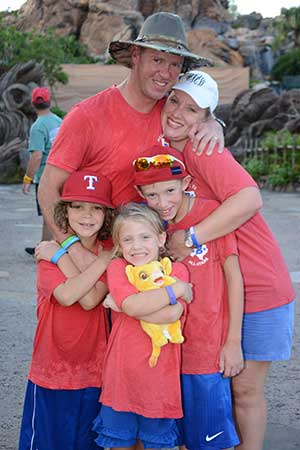 I have never been to Disney World and my three children have never been on a real vacation. Julie Bradley planned our trip and I CANNOT tell her thank you enough!!! Our trip was A-MAZ-ING and all we had to do was pay for it! ;-). Julie answered any AND every question I had leading up to our trip and while we were on our trip. I can't imagine doing this without her.
Each night, I would go over our itinerary and I felt ready for the next day! Julie even included good snacks, details of rides (I am a scaredy cat), and ALL kinds of helpful packing hints. She really put so much thought into planning our trip based on the things I told her about our family and was constantly looking for the right meals for us.
My children LOVED every single minute of this trip and I constantly had a smile on my face (except when the kids would fight over who was going to give the characters the pen!). My 5 year old daughter asked me twice if she was in a dream. Was this for real? One of my sons didn't want to come home!!! Honestly, I didn't either. Disney was AWESOME and Julie Bradley made our Crazy, Magical Vacation a HUGE success. We will ALWAY use Mickey Mom Travel and have already referred them to a few friends!.