My name is Angela Cox, and I am the owner of Mickey Mom Travel, LLC. I must admit it… I am officially addicted to Disney travel. Thankfully my hubby and two kids are as mesmerized by Mickey as me! We love to travel, and our favorite vacations always involve Disney. Although I fell in love with Walt Disney World® as a child, it was nothing like the feeling I got as I watched my own children experience the magic for the first time. We were hooked after that first family vacation, and it hasn't changed after all these years!
Disney is for kids of any age…and kids at heart. If you are dreaming of that dream vacation, our travel professionals would love to take away the hassles of planning, strategizing, and stressing over the perfect trip.
All of our Mickey Mom Travel, LLC professionals are College of Disney Knowledge graduates, and we stay on top of all updates through on-site tours, trainings, and webinars. I have attended Agent Education Programs in Walt Disney World® and Disneyland® Resort, along with being a GOLD Castaway Club member with Disney Cruise Line®. I have vacationed in or toured every single resort at Walt Disney World® in Florida and Disneyland® Resort in California. I have sailed on and taken extensive tours aboard the Disney Magic®, Disney Wonder®, Disney Dream®, and the Disney Fantasy® multiple times.
Have you always wanted to celebrate at Disney, but haven't because you're too intimidated by the massive amount of time and energy required to plan the vacation? Who wants to take time off from work, spend thousands of dollars, only to realize they've chosen the wrong week, come without a plan, or missed out on a possible discount promotion?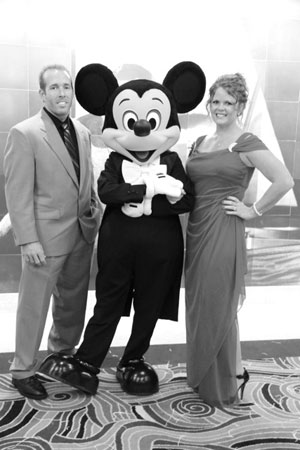 Believe me, without a professional who specializes in Disney destinations, the entire process can be extremely overwhelming. Instead of stressing over what should be a relaxing and fun time for your family, allow one of the travel professionals at Mickey Mom Travel, LLC to take your worries away! Sit back, relax, and let a pro handle the numerous details of how to preplan for your trip, which times of the year are the best, strategize which days to go to which parks, how to avoid the crowds, what restaurants to choose, which FastPass+ reservations are crucial, and most importantly: tricks to maximizing your vacation time and budget. If you are cruising, there are many strategies involved to making the most of your vacation, and we have the inside scoop!
Mickey Mom Travel's concierge services are priceless, and guaranteed to deliver a magical experience. Most people don't realize that our services are ABSOLUTELY FREE when vacation packages are booked through our agency! Nope, there's no catch. Mickey Mom Travel, LLC doesn't charge one dime for these invaluable services, unless you book on your own and still want to use our help. You may ask how this is possible. Nothing is ever free, right? While we don't charge our clients for our services, we still get paid for booking vacation packages. Disney rewards Mickey Mom Travel, LLC directly. And there's no need to worry…your vacation package isn't inflated to cover the commission.
You will pay the same price for booking a vacation with our agency as you would if you booked directly through Disney. In fact, there's a big chance you'll pay less! At Mickey Mom Travel, LLC, we are among the first to know when Disney releases discount promotions. Whether your vacation package was booked last week or last year, if the discount applies to your travel dates and resort, we will immediately begin the modification process online or on the phone to try to lower your balance!
Our travel professionals cannot wait to help you plan your Walt Disney World®, Disneyland® Resort, Disney Cruise Line®, Adventures by Disney®, or Aulani ~ A Disney Resort & Spa. As an Authorized Disney Vacation Planner, Mickey Mom Travel, LLC Is full Of amazing College Of Disney Knowledge Graduates who will be thrilled To help you plan And strategize your fun, fantastic, And even relaxing Disney vacation!
We are here to answer all of your questions and plan the most magical vacation of your life! Magical memories start here!